This event has passed.
You can find a full recording of the event below or on the HRP YouTube channel.
---
Register at discussion under this Zoom link. To receive other updates on upcoming HRP events, sign up for our newsletter.
___
"People have spoken. Their desire is obvious. You are condemned to serve them for life.
Chinua Achebe, Anthills of the Savannah (1987)
When Chinua Achebe wrote these words in reference to "His Excellency," a fictional African military leader, he was conjuring up a familiar scene. His audience must have been acutely aware of the military and authoritarian regimes that ruled two-thirds of the continent at the time of this book's publication. Much has changed in the decades following the Cold War, when Africa experienced a period of relative stability and the "third wave" of democratic transitions. By the time what has been described as the "fourth wave" of democratization arrived with the Arab Spring in 2010–2011, two-thirds of African states were classified as "free" or "partly free" by Freedom House.
Despite the democratic progress of the past three decades, and despite the Arab Spring and subsequent sub-Saharan protest movements, authoritarian tendencies have persisted in Africa. With recent events such as the outbreak of conflict and attempted or successful coups in In East and West Africa, many fear that a vast authoritarian counterwave is on the horizon. This event will address some of these trends and delve deeper into some of the structural factors and local dynamics driving political developments in Ethiopia, West Africa and Tunisia.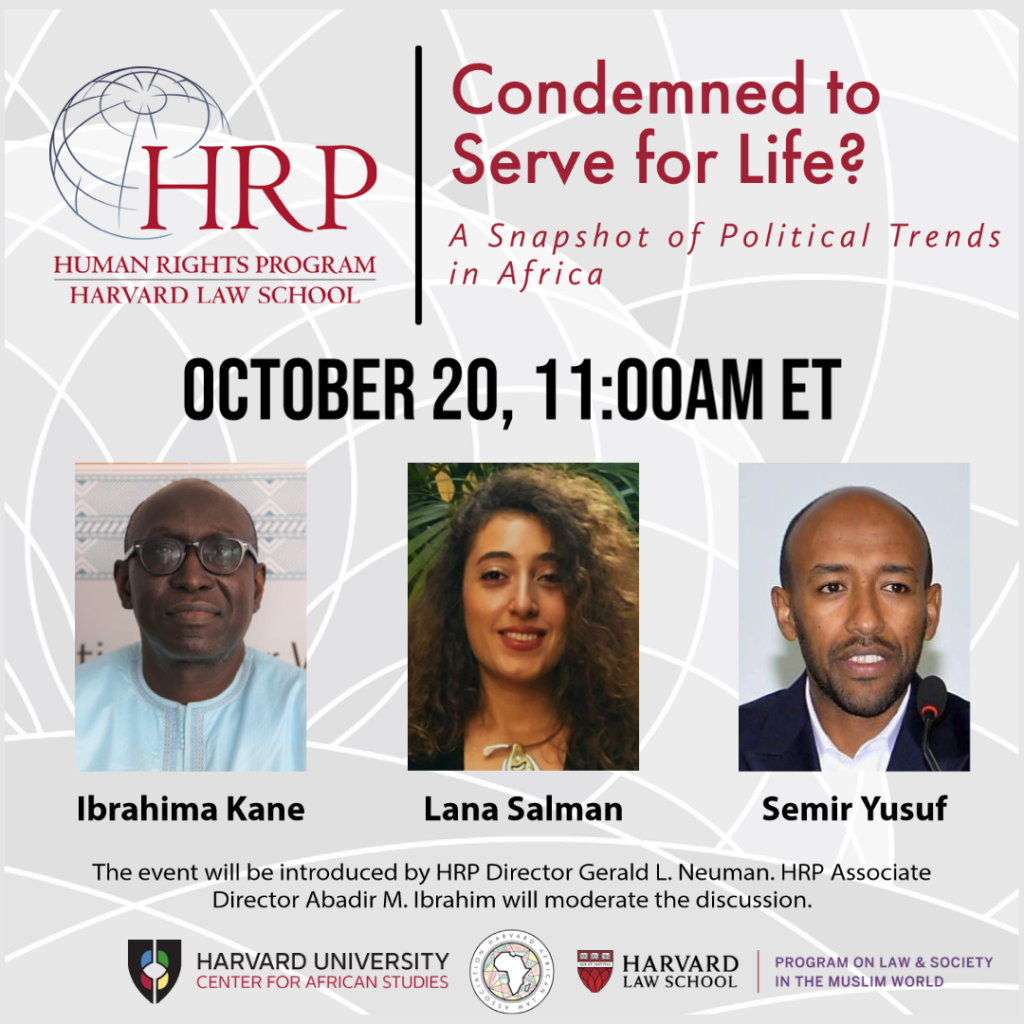 We join as panelists:
Semir Yusuf, senior researcher and head of the Ethiopia project at the Institute for Security Studies (ISS).
Lana Salmannon-resident researcher at the Middle East Initiative at the Belfer Center for Science and International Affairs, Marie Skłodowska Curie postdoctoral fellow at Ghent University, Belgium.
Ibrahima KaneHead of the African Union Advocacy Program of the Open Society Africa Regional Office and qualified as a lawyer in Senegal and France.
Gerald L. Neuman, director of the Human Rights Program (HRP), and J. Sinclair Armstrong Professor of International, Foreign, and Comparative Law at Harvard Law, will introduce the event. HRP Associate Director Abadir Ibrahim will moderate the discussion.
Co-sponsored by the Program on Law and Society in the Muslim World, the Harvard Center for African Studies, and the Harvard African Law Association.
---